Websites designed with customers in mind
95% of people rely on online information to find local businesses, and over 50% of those people use a mobile device to access it.
Our sites are highly customizable and we have adapted a number of templates to make the process of deciding on the look and feel a very easy experience. We also ensure our websites are also very trackable (so that you can see exactly where your results are coming from) and 'Google friendly' to ensure that you rank highly in any search.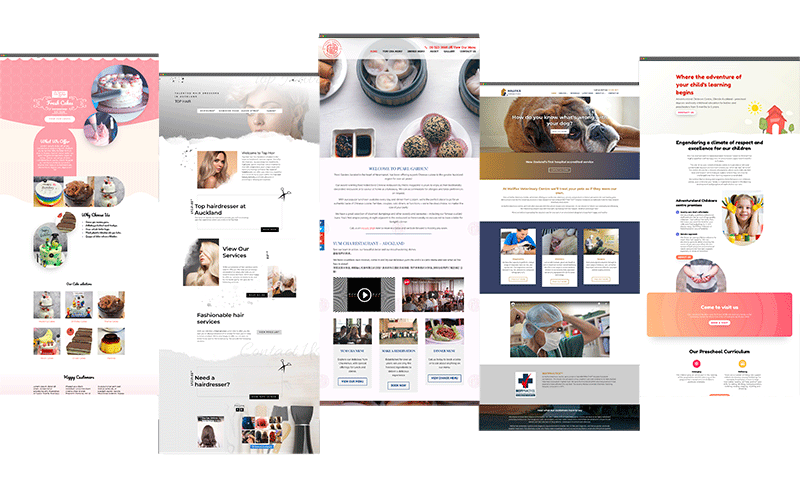 MOBILE FRIENDLY
We craft sites to provide an optimal viewing experience—easy reading and navigation with a minimum of resizing, panning, and scrolling—across a wide range of devices (from mobile phones to desktop computer monitors).
CREATIVE
We create websites with Word Press, by far the most popular option (more than 75 million websites worldwide) due to the flexible, simple interface, ease of customisation. Being one of the most secure web platforms also helps!
ECOMMERCE/ ONLINE STORE
We have effective tools to assist you in offering products for sale in your online store including payment integration, shopping cart functionality, stock level management and searchable product catalogues.
RESPONSIVE DESIGN
Did you know Google will penalise you if your website isn't designed responsively for mobile?
SSL CERTIFICATE
We'll keep your site secure, and the SSL certificate updated.
2 HOURS OF DEV TIME PER MONTH
Need to make some changes but not sure how? We can help!
OPTIMISED FOR SEARCH
All of our websites are built with SEO in mind.
USER FRIENDLY CMS
We give you the ability to be able to update and make changes to your website.
REGULAR AUDITS AND RESOLUTIONS
Each website is is kept up-to-date and optimised on a monthly basis.