Our Services
Google Adwords
"It's much easier to double your business by doubling your conversion rate than doubling your traffic" – Jeff Eisenberg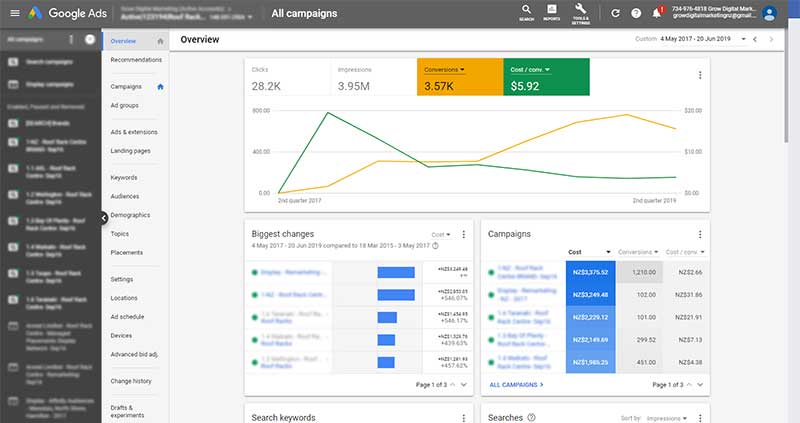 Google ads management you can trust
Google Advertising is a great tool to help you get your business in front of people who matter. If in the hands of an experienced agency, it can be a deadly addition to your marketing arsenal.
We'll help you to take advantage of all Google Ads resources to reach your goals, whether you want to drive more foot-traffic to your local business or to sell your products online. Having your website standing out on Google Search results really is a shortcut to success!
Why we love Google Adwords:
They're Measurable
You can measure performance and success at any time, anywhere.
Compared to traditional marketing channels like TV and magazine advertising, online marketing is highly measurable, and Google Adwords is one of the most measurable of online channels. It's difficult to make exact measurements in SEO because you can't always know what actions lead to increased or decreased rankings. Social media can be equally difficult to measure. In comparison, Google Ads is more transparent, providing tons of PPC metrics that allow you to see at a granular level what works and what doesn't. You can pretty quickly determine if your campaigns are generating a return on investment.
They're Scalable
Business growing quicker than you forecast? Flick a switch and increase, or decrease your exposure.
Google Ads are highly scalable, which is why some business spends millions of dollars a year on Google advertising. You can increase your PPC budget and your leads and profits will increase accordingly. This makes Google Ads highly effective for businesses that need a lot of leads but are short on time and staff.
They're Faster Than SEO
Let's face it – we don't all have time to wait for SEO to work!
For new businesses and websites, it can take months to see results from SEO. Google Ads is a great workaround for new businesses because you don't have to wait around so long to see results. While working on your site's SEO, you can put resources into a Google Ads campaign and start getting impressions and clicks immediately. Because it's so speedy, it's also a good way to test whether a given keyword or audience is worth pursing via organic search.
They're More Engaging
When compared to their traditional organic counterparts.
Google has rolled out lots of new ad formats in the past couple of years, such as product listing ads, in-video ads on YouTube, and a range of ad extensions, Google is motivated to do this because shinier, more engaging ads get more clicks and that means more revenue for Google. Of course, higher clicks are good for the advertiser too!